Your toothbrush doesn't get all the plaque.

There is one more step to cleaner teeth.
Plaque build up leads to...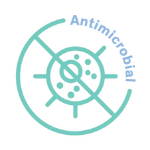 Remove plaque where your toothbrush doesn't reach for fresher breath.
Gently limit plaque build up to keep your smile looking youthful.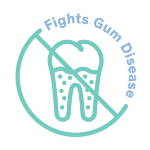 Gum disease can show up at any age. Reduce your chances with cleaner gumlines.
There is one more step to less plaque.

You've probably heard of that sticky film that forms on your teeth. We all have it. But that doesn't mean we have to let it get out of control. Brushing and flossing are great first steps, but they aren't designed to remove plaque from hard-to-reach areas. We've got a solution for that—our Gumline Cleaner.
Scrub that sticky plaque.

Our bristles, especially when used with toothpaste, are clinically and strategically engineered to scrub plaque away more effectively than commercially available products.
"A great tool for keeping your teeth and gums clean and healthy! I received the Pix starter set and was happy to see it came with everything I needed to enhance my oral hygiene routine. As a hygienist, I know patients struggle to keep their teeth and gums healthy, and Pix is a great tool to add to your oral care routine alongside brushing and flossing. It removes plaque effectively and helps keeps gums healthy! Would definitely recommend!"
Elisardh 10/14/2020
"Wonderful customer service. Responded quickly Wonderful customer service. Responded quickly and received product in a timely manner"
Mona G. 3/25/2021
"Bäz Gumline Cleaner Starter Set The best dental product I own. The tip massages my gums and really gives that deep clean feeling - it scrubs the plaque away that doesn't get removed from my toothbrushing and I use the Refill Pack subscription to replace the tip every 2 weeks. Bought for all my friends and they're hooked on it too!
Samantha E. 8/15/2021
Our silicon-like material delivers a targeted, soft touch to your gums. They'll feel like they're getting a massage, and stimulating this area helps improve blood flow.
Better at removing plaque.

Better at stimulating the gingival tissue.

Better for the environment.

Better in terms of durability and useful life.
I love the packaging and the product but the one piece of feedback I would give is we don't really know how to use it, not sure we're doing it properly. I think it would be really useful if there was a sample tutorial on proper use of the tool within the package or a link to a video to explain how to use your new tool :) But the packaging and branding all looks amazing!
Alexandra M. 10/21/2020
"My Results: My results from using the Baz pix are: My gums were puffy. They have now tightened and hug each tooth. My front teeth have coffee stains just above the gum line. This stain has lightened after having been scrubbed by the Baz pix. I wake up in the morning and my mouth feels clean, whereas in the past, I would have a bad taste in my mouth. I feel this is due to the lessening of disease. For the first time I can clean in between each tooth and in tough places I could never reach before. Above and beyond that, it feels excellent!"
Kathy R. 8/27/2020
"Must try it! I usually don't write reviews, but this Pix system is amazing! I have been using it daily for about two weeks now, after eating and after brushing my teeth, let me tell you it has made a huge impact on my gums, especially around my dental implant since I have a very tight contact and I cant directly floss, using the Pix has made my gums more firm and healthier. Over all its excellent .. please try it out if you can!
Lucy R. 4/6/2021
Experience Cleaner Gums Today